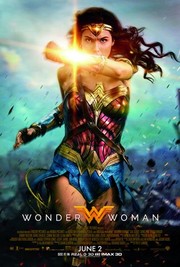 "Wonder Woman" is, well, a wonder.  It's a wonder that it took the DC Comics franchise so long to offer its fans this flesh and blood superhero in a starring role.   Warner Brothers has discovered that this wonderful woman has attracted an audience of both genders, perhaps because she appeals to the machismo and feminine sides that reside together in all of our psyches.  Apart from the usual action film message of action for action's sake, there is also a nobler idea presented in this film:  that war is not good and that maybe women have a more simplistic sense of how to dismantle it than do men.  Perhaps because this film is directed by a woman, Patty Jenkins, the secondary message of non-violence comes across as a dominant theme.  Yet, as with any action movie, there is the striking juxtaposition of good versus evil with a violent war as background for this film.
The film starts with a cherubic little 5 or 6 year-old Diana (Lilly Aspell) gleefully running away from her mother Queen Hippolyta (Connie Nielson) to watch the Amazonian warrior women in training under their general Antiope (Robin Wright) who is also the Queen's sister.  From her imitating jabs and antics on the sidelines, it is clear that Diana is taken with these warrior women. Her mother, however, envisions a life of enduring peace since the island they live on is hidden away, presumably by a spell cast by the Greek god Zeus, and she sees no reason for her daughter to learn martial arts – we're talking bows and arrows and swords and shields – clearly the trappings of an earlier age.
Antiope prevails as she sees potential in Diana as a warrior, and she is also aware that Diana is no mere mortal.  Through hard physical lessons and relentless training, Diana (Gal Gadot), now magnificently mature and talented, becomes a fearsome warrior.  In a parallel universe, World War I is being waged – apparently not far from the Amazonian paradise.  Through some chink in the armor that protects the island, an Allied pilot, Steve Trevor (Chris Pine) crashes his flaming biplane into the sea, just as Diana is standing watch from a cliff.  Diana saves him, but he soon drags the perverse outside world with him as boatloads of Germans rush onto the island shores.  In many respects the guns of the Germans are no match for the warrior women's bows and arrows, but the women prevail.
Believing that all war is caused by the evil god of war Ares (who escaped the hand of Zeus and made his way into the world of men), Diana asks Steve to take her to the war – presumably the western front.  Diana believes that she can take the magical "god killer" sword with her, plunge it into the heart of Ares, and end war – not just this war but all wars.
Before arriving at the front, there is a humorous scene of Diana trying on western garb which makes for difficult martial arts maneuvering.  There is also a delightful scene of Diana (a woman, heaven forbid) entering the House of Lords where the factions are debating the possibility of continuing the war or declaring an armistice.  What makes the movie so engaging is Diana's naivety when it comes to the ways of the modern world.  She is both flabbergasted and amused at the complexity of it all because everything is, to her point of view, rather straight forward.  In fact, this is precisely how she faces the war when she finally gets to the front.  She charges right into battle, into the oncoming fire power of machine guns, with nothing more than her shield, sword and the magical armored bracelets.  The Allies fall in behind her and it seems that peace will prevail.
But there are sinister plots in the making, and the Germans continue to develop a poisonous gas that will quickly wipe out whole villages of innocent citizens.  German commander Ludendorff (Danny Huston) encourages the evil German scientist Dr. Maru (Elena Anaya) to perfect the gas, and it is soon ready to be transported by plane to an unsuspecting world.
It is easy to pan the stereotyped characters of the bad guys; and for some audiences, the ultimate final airborne battle between Diana and Ares, who has assumed the persona of an ordinary human, may be a bit too much fireworks.  But we knew all along that Wonder Woman would prevail amid the explosions and pandemonium – which is one of the many reasons we came to see this movie.  Still, this is a giant step forward for women in superhero starring roles, and I hope it is the beginning of many.
The photography in this film is magnificent.  The sets and costumes totally capture and lend authenticity to the period of World War I London.  The acting on the part of the Amazon women is engaging and energetic.  The interaction between the young slightly irascible aviator Stephen and the thoroughly schooled but naïve Diana is priceless.  It all makes for a fun movie experience.