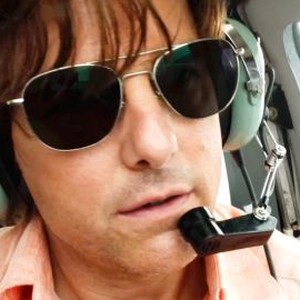 It is impossible not to relish "American Made."  Tom Cruise is perfectly suited to his real life character Barry Seal – a one-time TWA airline pilot who gets recruited by the CIA to take aerial spy photography over South America, then run AK 47's to the Contras operating to overthrow the Sandinista government in Nicaragua, and then smuggle in the Contras to the US for military training.
True to the mentality of the Federal Government (according the film script), the CIA simply doesn't pay Seal enough money to support his growing family – in spite of the highly dangerous services he performs (like getting shot at taking those super-low reconnaissance photos).  So it's no surprise that Seal is soon recruited by charismatic South American elements (Pablo Escobar played by Mauricio Mejia and Manuel Noriega played by Alberto Ospino), to run drugs and divert gun shipments from Nicaragua to Colombia.  As if this double-cross on the Feds isn't enough to make you scratch your head, Seal is finally re-recruited to continue the drug dealing operations on behalf of Ronald Reagan's White House.
If all this strikes a familiar – though highly fantastic – note, it should.  This is the dumbed-down version of the South American arm of the Iran-Contra Affair.  It was the clandestine illegal sale of arms to Iran (something expressly forbidden by Congress) that financed the Contras of Honduras in their guerrilla war against the Sandinista government in Nicaragua.
Enter Barry Seal, a man of dubious character and an unquenchable thirst for high adventure.  You've got to say this for Seal:  he was a pilot of uncanny ability – if we are to believe any of the air acrobatics this film depicts.  Still adorable at the age of 50, Cruise's enigmatic smile, his smart delivery of one-liners, and those sweaty looks of total amazement when he's squeaked through another tight spot, endear us to the actor and the character he portrays.  Cruise plays the part masterfully – as it is right up his alley.
As a drug and arms dealer, Seal is making more money than he can possibly launder even with the spending power of his air-headed wife Lucy (Sarah Wright), who thinks her husband is some type of airline executive.  But Lucy nails it when hubby first proposes his idea of starting an airline company:  "But you're a pilot; what do you know about business?"  Truth said, not much.  Finally, with bags of cash buried in the back yard and overflowing the storage space in the airplane hangar, it is all more than Seal can handle.
Although the entire cast of the film is exceptional, Domhnall Gleeson is excellent as the self-possessed spook who initially recruits Seal and turns up from time to time.  Clearly, he is a rising star in the CIA and the envy of his office-mates (all cube entrenched).  At times we want to strangle him for his aloofness while his recruit is struggling with life and death issues.
An important film sequence is when Seal relates his adventures on his VHS, austensably to survive him in the event of his imminent demise.  If you read my last review, "Brad's Status," I harangued about the first person narrator.  They could have taken a lesson from this film – advance the story, tell the narrative, and show the passion and the mind-set.  Bravo, director Doug Liman.
Call it a dark comedy, a mock documentary, a high velocity thriller.  Whatever you call it, it is well worth seeing.  Cruise is a real charmer in this made-for-him film.