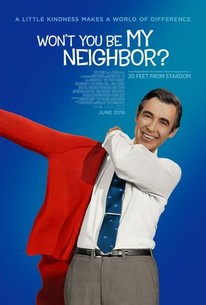 4 stars
One thing is very clear after seeing the documentary about Fred Rogers, we could certainly use a bit of Mr. Rogers' wisdom today.  The film "Won't You Be My Neighbor?" is both inspiring and mind-boggling.
It is inspiring because the person Fred Rogers showed himself to be on PBS Television was apparently who the iconic figure actually was in real life.  It is mind-boggling because critics of Mr. Rogers' actually blamed Mr. Rogers for Gen X's attitudes of entitlement, contending that Mr. Rogers told his junior audiences that they were "special" in just being who they were (see New York Times headlines).  Seriously?  If parents out there have not told their children that they are special and unique, they really need a visit from Child Services.  It was also amazing to find that at Roger's funeral service in 2003 crowds were protesting across the street with ugly placards maligning him for just about everything, including believing in God (he was an ordained Presbyterian minister).   This reminds me that the craziness in our country has been going on for some time.  I can remember we blamed Dr. Spock for producing a generation of brats and over-indulgent parents.  Why do we adults never want to face up to our failings?
But for the most part, Morgan Neville's documentary is inspiring and gives us an idea of how Mr. Rogers came to be the sensitive and thoughtful icon he actually was.  For starters, he was a fat rich kid who probably did not have many friends and was a favorite target of bullying by his peers.  You can't grow up in such an environment and not develop a sensitivity for the tortures children go through.  Fred Rogers was especially sensitive to the feelings of children and connected with them on a level they could relate to – probably because he could still feel the sting and confusion of his own childhood.  He was never out of touch with his own child within.  When he was unable to speak freely for himself, he spoke through his puppets – a tiger, a king, a queen and an owl.   Children were rapt with attention when he spoke to them in a manner they clearly understood.  He was always respectful in dealing with children – speaking to them on a level of honesty and sincerity.  Kids know when they are being conned or lied to.
What I did not appreciate in those years of watching Mr. Rodgers with my own children is that he was quite radical for his time.  He touched on many sensitive issues of the day either through his own words or the words of his very wise puppets.  When black youths were banned from swimming in "white" public pools, Mr. Rogers simply cooled his feet in a child's wading pool alongside a black postman.  And when Robert Kennedy was assassinated, Daniel the tiger wanted to know what "assassination" meant because he had recently heard the word.  Rogers talked and sang to his young audience about death, about anger, and about sadness.  Surely these were not subjects for preschoolers and kindergarteners.  But in the sensitive and calming voice of Mr. Rogers, they were matters seriously treated when no teacher or parent would even consider broaching the subjects.
It would be unfair for me to tell you too much about this wonderful documentary – you can probably recall your own experiences with Mr. Rogers, and I would not want to sully or gloss over those memories which will come pouring back as you watch this film.  Speaking for myself, I had a Mr. Rogers song book and would often play those old tunes on my piano and sing them to and with my children.  And speaking for my oldest son Jeff, Mr. Rogers taught Jeff how to tie his shoes.  It doesn't get more amazing than that.
In a world full of contention, division, fear and terrifying uncertainty, we could use someone like Fred Rogers to address the tough issues of the day and maybe find a gentle and thoughtful way to recognize the humanity that is still alive in each of us.  We are special – still.