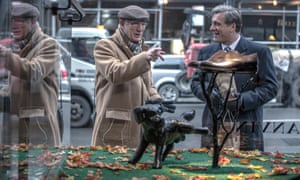 Richard Gere has played some interesting roles recently.  In "The Dinner" Gere played a charismatic politician who was a leading candidate for governor and who dined in places where haute cuisine came with a price tag that could finance a down payment on a Mercedes.  In his latest endeavor, Gere plays a has-been, or might-have-been, deal-maker who dines on jarred pickled herring and Ritz crackers in the balcony of his synagogue.  His character is enigmatic because we are not certain if he is really a nice charitable guy or just a shyster.  The full title of Gere's latest offering is: "Norman: The Moderate Rise and Tragic Fall of a New York Fixer"; and that tells the story of Norman the man and "Norman" the movie.  
In the film, Gere plays Norman Oppenheimer, a New York "enabler" who dogs his prey, trying to get an introduction to the movers and shakers in the high stakes financial institutions of New York.  He is thoroughly annoying and his demeanor is cloyingly intimate, allowing none of the personal space that good manners dictate.  We can't stand him.  He is a chronic name-dropper, always suggesting an intimacy that anyone can see through as bogus.  Yet he has a nephew (Michael Sheen) of credible repute (who he is always trying to exploit) and there is something about Norman's optimism and creativity that wins us over.  He promises everything to everybody and we are certain he can't deliver.  
In the beginning of the movie Norman stalks an up-and-coming Israeli diplomat Micha Eshel (Lior Ashkenazi) who is window shopping at an exclusive New York City men's store.  Norman befriends Eshel and insists on buying him a pair of shoes with an unimaginable price tag.  But the gesture pays off when three years later Eshel is the Prime Minister of Israel.  Norman convinces his nephew that he is a close friend of Eshel as the two attend a meeting of the Prime Minister and high ranking members of the New York Jewish community.  Norman is uneasy as his nephew insists they enter the reception line.  Norman's apprehension that he will not be remembered by Eshel is palpable right up until the Prime Minister recognizes Norman and embraces him like a long lost friend.  Suddenly, Norman's prospects are on the rise and he becomes someone in the New York Jewish community.  He sits on the board of his synagogue where he promises his rabbi, Rabbi Blumenthal (Steve Buscemi), that he can deliver a multi-million dollar anonymous donation to save the synagogue from foreclosure. 
The web Norman weaves is like a Ponzi scheme with one promise depending on the delivery of yet another promise.  Soon almost no one believes that Norman can deliver and there is a brutal confrontation in the alley of his synagogue with Rabbi Blumenthal.  In the end, Norman can visualize the realization of all his promises with one single act of courage.
Many of the sequences in the film are obvious and inevitable, so we shouldn't pride ourselves in figuring out certain events.  It is Gere's masterful delivery of these scenes which draws us into the film and ultimately captures our attention.  Inevitably, we are less annoyed by the mannerisms and feigned grandiosity of Norman and find ourselves deeply caring for him as he moves toward the ultimate deal.
This film is a joint American/Israeli effort.  New York born Joseph Cedar ("Footnote"- 2011) directed and wrote the creative script.  Cedar is a graduate of New York University's film school but has been a resident of Israel since the age of 5.  The casting is over the top with names and faces that will challenge your mastery of recall.  The photography is especially engaging, capturing the essential loneliness of Norman in stark scenes of Gere walking the streets of New York in all kinds of foul weather.  And there are some wonderful split screens where characters exchange conversations over a patio wall or a desk top.
The more I consider this film, the more I am convinced of the elegant simplicity of it.  It is an incredibly intimate portrait of a man who hovers in almost every scene but whom we never really feel we know.